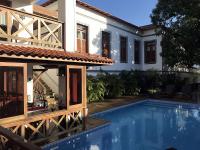 Casa de Santo Antonio
Location
Parnaíba (Lencois Maranhenses and the colonial ports, Brazil)
Description
A lovely hotel in the centre of Parnaíba. There is a restaurant which serves a delicious set menu of the day each evening and breakfast in the mornings. The is a large pool, spa and nice communal lounge area.
Activities
The Parnaíba Delta is the main draw to the area. Take boat trips out into the delta to see scarlet ibis and sand dunes. It is also possible to go out at night-time in search of alligators, snakes and iguanas.
Accommodation
Rooms are very comfortable and most have private balconies or patios.
Our comments
A lovely choice of hotel to base yourself when visiting the Parnaíba Delta.