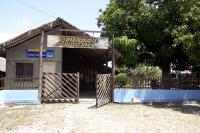 Pousada Agua Doce
Location
Santo Amaro (Lencois Maranhenses and the colonial ports, Brazil)
Description
A small and simple inn on a sandy street in the centre of Santo Amaro (itself a 1½ hour bumpy ride away from the tarmac). There is a decent restaurant (also open for those just visiting for lunch).
Accommodation
The small rooms have air conditioning and private bathrooms.
Our comments
A good base for those wanting more time at the dunes (sunset is usually magical), which are a 20 minute drive from the village.