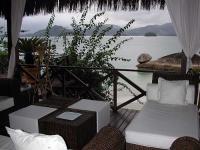 Pestana Angra
Location
Angra dos Reis (Angra and Ilha Grande, Brazil)
Description
A small and very comfortable hotel on the coast just outside the town, with its own beach and fine views of the bay.
Accommodation
Individual bungalows have their own terrace (some with plunge pool) and hammock. Rooms are spacious and have large sitting area with CD and DVD player. Bathrooms in some of the bungalows have a sauna. Restaurant and bar overlook the beach, and there is a good sized pool. There is a spa on site.
Our comments
A lovely place to relax and enjoy the setting, the food and the facilities. Staff are very welcoming and friendly.