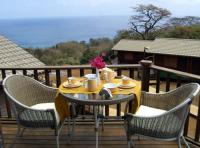 Solar de Loronha
Location
Island centre (Fernando de Noronha, Brazil)
Description
Loronha is in the Floresta Velha district in the middle of the island, within a 10 minute walk of Vila dos Remedios and Cachorro beach. There is a lovely swimming pool with views to the ocean.
Activities
Snorkelling, diving, relaxing, boat trips.
Accommodation
There are 9 spacious bungalows, all with air-conditioning, TV and solar-powered shower.