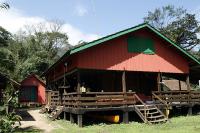 Sebui Lodge
Location
Superagui National Park (Curitiba, Morretes and the Atlantic rainforest, Brazil)
Description
This lodge is now closed
A rustic jungle lodge at the heart of the Superagui National Park a short boat ride from the mainland. Surrounded by dense Atlantic rainforest, Sebui Lodge comprises of 400 hectares of primary and secondary forest and has been a labour of love of the owner Enzo Sebastiani, who in 1999 converted it into state protected ecological reserve. The reserve has a number of unique eco-systems from coastal mangroves and transitional forest to rainforest proper and plays host to countless species, most noticeably birds, including the endemic red-tailed and purple-faced parrot.
Activities
Guided excursions into the surrounding forest. There is a hike to a series of pretty waterfalls as wells as an educational trail into the mangroves. Tide depending, guests can canoe through the lush channels or take boat trips to nearby beaches and local villages.
Accommodation
The lodge itself is very simple and environmentally friendly, powered by solar panels and featuring a natural water treatment system. There is a small netted sitting room within the main lodge and a separate shelter for barbeques.
There are three simple cabins just behind the main lodge, two with private facilities (though a shared shower block) and one with an en-suite bathroom. Closer to the river there are two very basic treehouses.
Our comments
The atmosphere is homely and low key where guests help themselves from the kitchen. The food is simple though hearty with lots of fresh fish and even oysters taken from nearby cultivations.
A beautiful patch of Mata Atlantica, the only one of its kind in the area. The lodge is charming but very rustic and still finding its feet with tourism.