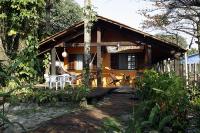 Pousada Enseada das Conchas
Location
Ilha do Mel (Curitiba, Morretes and the Atlantic rainforest, Brazil)
Description
A small, family-run guesthouse on the edge of the main town (Brasilia) and a short walk from the beach. There is a small dining room and bar while outside there is a spacious deck which opens onto a green which separates the pousada from the waterfront.
Accommodation
There are four comfortable modern rooms.
Our comments
Small and charming though little English is spoken. Would suit those looking for a more authentic Brazilian experience.