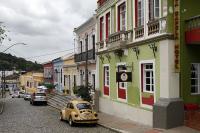 Hotel Camboa Capela
Location
Antonina (Curitiba, Morretes and the Atlantic rainforest, Brazil)
Description
A small, traditional hotel with a pretty colonial façade at the heart of Antonina's old town with wonderful views across the Paranaguá bay. Perched on a hill just across from the church, the Camboa Capela is a short walk along a cobbled street into the centre of the town and overlooks the original docks. Though rather dated, the hotel is warm and friendly. There are two small pools overlooking the bay and an interesting dining room that shows off the original town walls (ferns and all!).
Accommodation
Built into a hill, there are a mix of rooms of all shapes and sizes on a number of floors though best of all are the nine bay view rooms overlooking the water which have their own balcony.
Our comments
Great location and full of charm despite the rather dated feel. The views from the superior rooms more than make up for the rather spartan décor.