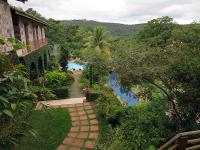 Pousada Canto das Aguas
Location
Lençois (Chapada Diamantina, Brazil)
Description
A pretty colonial hotel just across the river from the main town, next to a beautiful waterfall and surrounded by wonderful scenery. There is a big pool and plenty of space to relax after a hard day's hiking.
Activities
Walking, hiking and exploring the waterfalls, rock formations, caves and majestic table-top plateaux.
Accommodation
Rooms are comfortable with good facilities, including air-conditioning, and have a balcony with views to the river.
Our comments
The best place to stay in Lencois.
Client comments and reviews
Canto das Aguas was great. Stylish, clean and friendly - and the food was good. - JR (December 2006)