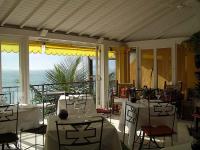 Pousada Vila d'este
Location
Armação de Búzios (B˙zios, Brazil)
Description
In the fashionable coastal town of Armação de Búzios, 2-3 hours by road north of Rio. A peaceful and elegant pousada with good views over the bay. There are 2 small pools, a restaurant and shops are a short walk away.
Activities
The hotel can help to organise a wide variety of activities: diving excursions and courses, sailing, cycling and riding as well as a range of water sports. There is also a golf course nearby. There are also the many beaches to be explored.
Accommodation
There are a number of standard rooms (no views), superior ocean front rooms with a double bed and a balcony or best of all is the ocean view Master suite overlooking the bay with its own jacuzzi and private access to the coastal promenade below. All rooms are tastefully decorated with private bathrooms, air-conditioning, television, telephone and safe.
Our comments
This pousada is a good alternative to Casas Brancas. Does not accept children under 14.
When to go
It can be quite cool from July to August, and hottest from December to February (also the busiest time of year and more expensive with national holidays).
Client comments and reviews
We were a little disappointed with Vila d'Este. The superior room had a great [sea] view but was very small and there was almost no wardrobe space. The location is stunning but it was also a shame that the lower gate was out of order for part of our stay. - PH (February 2013)
I don't think we've ever had a better end to a holiday! - TB (December 2011)
The team at Vila d'Este was great and couldn't help us enough. The Brazilian champagne was actually very nice and they?d decorated our suite with petals. I think the caiparinha and oysters on the beach was the moment we realized we were in for a special trip and the stress of wedding planning faded away. They also recommended and arranged a trip to Cabo Frio to take a boat trip and even found an English speaking guide. It was amazing; we went snorkelling and found a turtle. - AT (August 2008)