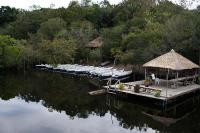 Amazon Village
Location
On the Puraquequará river, downstream from Manaus (Amazon lodges and cruises, Brazil)
Description
A large property whose cabins (mainly with 2 rooms each) are spread through trees on the banks of a black water river.
Activities
Excursions include an orientation tour (known as reconnaissance), sunrise and sunset (mainly in the dry season), morning or afternoon jungle walks, fishing and a visit to a native's house, and the ubiquitous caiman spotting at night. You can swim in the river.
Accommodation
45 rooms are reached along concrete paths off which no straying is permitted. All have two single beds, and a 12V bulb in the bedroom and another in the bathroom is the only electricity. Rooms are screened but there are no fans so it can be quite hot and humid at night. There is no hot water.
Our comments
All drinks are extra, even drinking water.
When to go
They work with the large cruise ships so during the busier wet season (January-August) there may be quite a few day visitors.