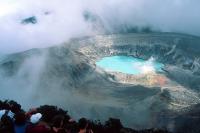 The Central higlands, due both to its altitude and mineral-rich volcanic soil, is the ideal place for coffee-growing. The heartland of Costa Rica, it is home to more than 60 percent of the population.
From San José it is less than 40 miles to Poás volcano, passing through the pleasant town of Alajuela and coffee plantations before climbing up into dwarf cloud forest. When free from clouds, the smoking crater and its turquoise lake are an amazing sight.
Our preferred accommodation

means that the hotel is one of our Dream Destinations.
Lodge/Hosteria - Bajos del Toro

A small luxury lodge set in a 500 acre private reserve in the cloud forest, just under two hours from San José, with a restaurant and bar overlooking the river and a Spa.

Lodge/Hosteria - Pacuare

A beautiful lodge on the Pacuare river best reached by white-water raft (grades 2-3). The main building is set above the river with good views, a large dining area (mostly open air), an open kitchen and upstairs bar with comfortable sofas and chairs. The lodge also has a spa.

Lodge/Hosteria - Poás

15 minutes from Poás volcano and national park. Set in lovely gardens and surrounded by farmland, the lodge was originally built by an English family as their home. It has a warm and cosy atmosphere with charming local staff who have lived and worked there for many years. The rustic restaurant serves good home-made food.