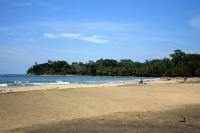 Puerto Viejo is famous in surfing circles for the Salsa Brava, a hot, fast, explosive wave that breaks over the reef from December through April and again in June and July. It attracts surfers from all over the world. At other times of the year the sea is quiet, particularly inside the reef, and good for snorkeling. South of Puerto Limón the ocean is benign, with good surf, lovely sand and coral beaches, and a vibrant Afro-Caribbean culture.
Our preferred accommodation
Beach hotel - Puerto Viejo

Rooms are in pretty wooden cabins set around beautifully maintained gardens. A 40 minute walk from the main town of Puerto Viejo (bars, restaurants, nightlife), but just 5 minutes from the beach.

Beach hotel - near Puerto Viejo

A chic, very modern and relaxed hotel just a short walk from the beach, and the laid back town of Puerto Viejo.