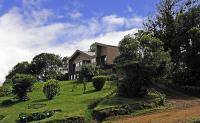 Poás Volcano Lodge
Location
Poás (The Central highlands, Costa Rica)
Description
15 minutes from Poás volcano and national park. Set in lovely gardens and surrounded by farmland, the lodge was originally built by an English family as their home. It has a warm and cosy atmosphere with charming local staff who have lived and worked there for many years. The rustic restaurant serves good home-made food.
Activities
Visits to the National Park and Volcano. La Paz waterfall gardens and butterfly farm are nearby as is the Doka Coffee Plantation and Sarchi craft village.
Accommodation
12 rooms including 5 beautifully refurbished and spacious Master Suites with private outdoor space (balcony or terrace).
Client comments and reviews
Poas Volcano Lodge was good but the the main purpose of staying there was to see the volcano. Unfortunately cloud cover meant they advised us against visiting as they had a camera near the crater and could see cloud cover. - YV (February 2017)
A lovely hotel, the room and communal areas were very nice and the staff lovely too. We had booked trips to Poas Volcano, Doka Coffee and La Paz directly with the hotel and our guide was brilliant. - MR (December 2015)