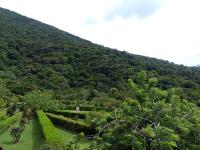 The areas of Guanacaste, Rincón de la Vieja and Tenorio volcano and national park are close in geographical distance, yet far apart in landscape, flora and fauna and each offers its own unique opportunities for wildlife spotting and sight-seeing.
In the arid north-west and bordering Nicaragua is Guanacaste, famous for its tropical dry desert, a result of consistent heat and low precipitation. This area is home to the impressive Orosí and Cacao volcanoes and was originally farmed for cattle.
Northwest of Guanacaste's main transportation hub, Liberia, is Rincón de la Vieja. The area is famous for its volcano, hot springs, clear rivers and abundant wildlife.
To the east of Rincon is Tenorio volcano and national park, known for its unique fauna and wildlife, which includes cougars, ocelots, tapirs and jaguars.
Our preferred accommodation