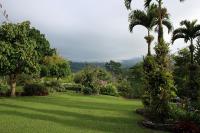 Aquiares Coffee Estate
Location
Aquiares, Turrialba (The Central highlands, Costa Rica)
Description
Casa Esperanza farmhouse on the Aquiares estate dates from the 1900's and has been lovingly maintained. It is surrounded by beautiful gardens, the coffee estate and community of Aquiares. Aquiares is the largest coffee estate in Costa Rica and produces very fine coffee, which guests will of course try.
Activities
A range of excursions can be organised on the estate itself, which include a coffee tour, riding, waterfall and community visit. Other activities in the surrounding area include rafting, mountain biking and archaeological visits.
Accommodation
The house is perfectly suited to families, with 5 rooms and 3 bathrooms.
Our comments
A wonderful place to spend a few nights as guests are so warmly welcomed and there are so many things to do on the estate itself.