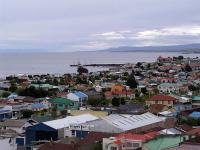 The gateway to Chile's far south is the port of Punta Arenas. Founded in 1848, the city was an essential stop for ships rounding the southern tip of South America and an outlet for the sheep products of Patagonia. Nowadays it is the departure point for cruises heading south-east through stunning fjords towards Cape Horn and Tierra del Fuego.
Puerto Williams, the southermost town in the world, is on the southern shores of the Beagle Channel, in Chilean Tierra del Fuego. It is sporadically connected to Punta Arenas by small plane, and otherwise reached by boat from Ushuaia.
Our preferred accommodation
Cruise ship - Punta Arenas/Ushuaia

Stella and Ventus Australis are luxury cruisers that operate from Ushuaia to Punta Arenas (and vice versa). Cruises run from October to April through the fjords and glaciers of Tierra del Fuego, and include a stop at Cape Horn (subject to weather).

City hotel - Punta Arenas

Previously called Hotel Rey Don Felipe

A modern hotel on a quiet street only a few blocks from the main square. The hotel has its own restaurant and there are many others nearby.

City hotel - Punta Arenas

Built in 1890 by Don José Noguiera, this hotel is an historic mansion in the centre of the city on the main plaza (square) and now a national monument. The breakfast room downstairs has a beautiful glass ceiling with period décor.