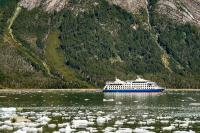 Cruceros Australis
Location
Punta Arenas/Ushuaia (Punta Arenas and Puerto Williams, Chile)
Description
Stella and Ventus Australis are luxury cruisers that operate from Ushuaia to Punta Arenas (and vice versa). Cruises run from October to April through the fjords and glaciers of Tierra del Fuego, and include a stop at Cape Horn (subject to weather).
Capacity
210 passengers
Activities
Educational lectures on fauna, flora and history of the region, landings by zodiac at sites of interest (at least one per day, weather permitting) and wildlife watching.
Accommodation
There are 6 categories of spacious ensuite cabins on 3 decks. Four categories (from B to AAA) are identical in size (16.5 square metres) but on different decks, while AA Superior and AAA Superior cabins are larger (20.5 square metres).
Our comments
Excellent service, knowledgeable and interesting guides, good food and spacious, comfortable cabins. The cruises predominantly focus on the spectacular glaciers of the Darwin range.
When to go
Only operates October to April.
Client comments and reviews
Wow! An opportunity to see and experience things out of this world. Glaciers galore, penguins, fjords, unusual habitats and Cape Horn itself (though we couldn't get off because the swell was too great). We enjoyed the trips ashore by zodiacs – quite the adventure! Good informative talks from the crew: biologists, glaciologists and political scientists. Some of the shore visits were quite challenging, but all were worth it. Our only issue was our personal preference to dine on our own, whereas this was allocated tables. In the event it was entertaining and we got on with our table mates. - PW (March 2023)
Everything we expected and more! Starting with the sighting of a whale near Punta Arenas, penguins, dolphins, albatrosses, seals and spectacular scenery. We landed on Cape Horn and the crew were genuinely pleased that we were able to do so. That day was topped off in Wulaia Bay in sunshine with the zodiacs playing with dolphins as we journeyed to and from the shore. The cruise was fantastic and everyone went out of their way to make sure we had the trip of a lifetime. We couldn?t choose a member of the crew who stood out above the others. All from waiters to guides and cleaners were friendly and gave of their best. - PH (February 2015)
The Stella Australis was utterly and completely amazing and the service was second to none. I was under the impression that we could just relax after 19 days or so on the Carretera Austral, BUT we could not relax once on board as it involved a lot of clock watching if you didn't want to miss anything. There were briefings before we went ashore in the zodiacs, the visits ashore, talks and films on board; all fantastic. So much to do! It was an absolutely amazing experience, would do it again tomorrow. - WH (February 2013)
Stella Australis and Ventus Australis usually operate 4 night programmes, which can be combined to create an 8 night programme.
Fjords of Tierra del Fuego (4 nights)
Day 1: Punta Arenas
Day 2: Ainsworth Bay, Tuckers Islet*
Day 3: Pía Glacier, Glacier Alley
Day 4: Cape Horn, Wulaia Bay
Day 5: Ushuaia
* In April this excursion is replaced with Brookes Glacier
Patagonian Explorer (4 nights)
Day 1: Ushuaia
Day 2: Cape Horn, Wulaia Bay
Day 3: Pía Glacier, Garibaldi Glacier
Day 4: Agostini Sound, Águila Glacier, Cóndor Glacier
Day 5: Magdalena Island*, Punta Arenas
* In April this excursion is replaced with Marta Island
Special round trip itinerary from Punta Arenas for season 30 December 2021 - 15 March 2022 on Ventus Australis
Glaciers at the End of the World (5 nights)
Day 1: Punta Arenas
Day 2: Pia Glacier, Glacier Alley*
Day 3: Cape Horn
Day 4: Aguila Glacier
Day 5: Parry Fjord, Ainsworth Bay
Day 6: Punta Arenas
* Not an excursion
A Cabin
There are 34 A cabins on the Magallanes deck, the lowest with passenger cabins. All have windows and a double or twin beds.
AA Cabin
There are 36 AA cabins on the Tierra del Fuego deck (the middle passenger deck). All have windows and a double or twin beds.
AAA Cabin
There are 23 AAA cabins on the Cabo de Hornos deck (the highest deck with passenger cabins). All have windows and a double or twin beds.
B Cabin
There are 3 B cabins on the Magallanes deck, all with windows and twin beds. These cabins are nearest the bow of the ship.