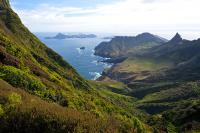 The Juan Fernández islands were made famous by Defoe's Robinson Crusoe (inspired by the real life adventures of Alexander Selkirk). Discovered in 1574, the group is made up of the islands Robinson Crusoe, Alejandro Selkirk and Santa Clara and with rugged scenery and challenging walking, tourism is slowly growing.
Our preferred accommodation
Lodge/Hosteria - Robinson Crusoe Island

Closed until further notice

A comfortable resort hotel on Robinson Crusoe island, the largest of the Juan Fernández islands, overlooking Pangal Bay. There is an outdoor swimming pool, hot tubs and a spa, a restaurant (lobster and crab are specialities of the island) and bar.