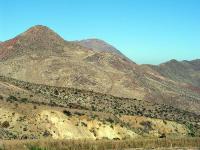 The Norte Chico, about 450km north of Santiago, has an arid landscape of towering mountains which are punctuated by green and fertile valleys irrigated by the rivers that flow towards the Pacific. The Elqui valley is famous for the grapes used to make Pisco brandy, and also for astronomical observatories: with virtually no rain, clear nights are almost guaranteed.
Our preferred accommodation
Beach hotel - 110km from La Serena

An astro-hotel offering exclusive dome-shaped rooms with a detachable ceiling to observe the stars above the Elqui valley. There is a very comfortable communal area with hammocks and a swimming pool.

Hacienda - Rio Hurtado Valley

This restored old 500 hectare hacienda is on and above the Rio Hurtado, around a two hour drive from La Serena. It was built in the colonial style, with traditional influences from Chile and Mexico in decoration and architecture.

City hotel - Vicuña

A lovely colonial hotel with swimming pool situated a few blocks from the town centre.