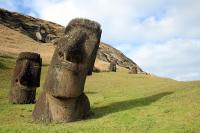 Easter Island (Rapa Nui) lies 3,790km off the coast just south of the Tropic of Capricorn - a unique and utterly remote Chilean outpost. It was first inhabited by Polynesians, who are believed to have arrived by sea about 1,200 years ago. The main attraction is the moai, more than 600 stone statues each up to 9 metres in height.
Our preferred accommodation
Lodge/Hosteria - Hanga Roa

A small hotel (4km from Hanga Roa) built with local volcanic stone surrounded by a lovely large garden filled with fruit trees and flowers. There is a restaurant and small pool with a sea view.

Country hotel - Te Miro Oone

Explora's smart Easter Island hotel is 9km from Hanga Roa and built with light wood and local volcanic rock - it has been uniquely designed throughout. The main building includes relaxing areas, bar and a dining room with great views of the Pacific ocean. There is also a spa area, pool and open air hot tubs.

Country hotel - Hanga Roa

A friendly, modern and open hotel five minutes' walk from the airport and about twenty minutes to downtown (2km). There is a restaurant/bar area and a good pool.