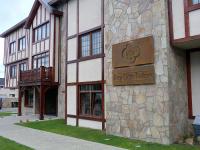 Hotel Almasur
Location
Punta Arenas (Punta Arenas and Puerto Williams, Chile)
Description
Previously called Hotel Rey Don Felipe
A modern hotel on a quiet street only a few blocks from the main square. The hotel has its own restaurant and there are many others nearby.
Activities
The hotel offers cycle hire and can help arrange additional excursions locally.
Accommodation
All rooms are a good size and the junior suites and suites are large.
Our comments
A very nicely done hotel with good sized rooms and is only a short walk from the main square.