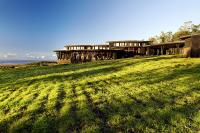 Explora Rapa Nui
Location
Te Miro Oone (Easter Island, Chile)
Description
Explora's smart Easter Island hotel is 9km from Hanga Roa and built with light wood and local volcanic rock - it has been uniquely designed throughout. The main building includes relaxing areas, bar and a dining room with great views of the Pacific ocean. There is also a spa area, pool and open air hot tubs.
Activities
Small guided group excursions are included. Activities include walking, mountain biking and snorkelling. Riding and diving can be arranged at extra cost.
Accommodation
The 30 rooms are very comfortable and clean, with great views and a private bathroom.
Our comments
All meals are included. The guides are friendly and are all local. Casas Rapa Nui/Posada de Mike Rapu were previous names for this property (one in a different location).
Client comments and reviews
We loved Easter Island. The people were delightful and the whole place was so full of history. We went to church on Sunday and despite being in Spanish everyone was so friendly and the Rapa Nui singing was fabulous - we were happy to stand up for over an hour! The walks on the island were lovely, super views from every point and hardly any people! The Explora is a real activity centre (albeit 5*) with excursions morning and evening - lightweight walking boots are recommended and a certain amount of fitness is required to get the most out of the trip. The atmosphere was very relaxed, the dresscode informal and the accommodation and food were excellent. The staff were also most attentive. - LT (January 2011)
Explora do their best to give you a closer to people experience. Walking with the guides was the real priviledge. The explorations were so well organised and we learned much - notwithstanding that every person has their own theories about everything! We worry about the weathering effects especially at Orongo and the other petroglyphs. Comparing the carvings to photos taken just 20 years ago, they are much blunted. - MR (April 2009)
Easter Island was amazing - a highlight of the tour. The hotel is excellent and the Explora guides were very good. We especially loved the trip to the quarry and the volcano where the bird man ceremonies were held. The island itself is totally unique and the little port quite charming and undeveloped. We liked the mix of activity, history and quirkiness. - JB (April 2008)
Our touch of luxury in our Raa suite at Explora was excellent and we were in fact extremely pleased to have discovered Easter Island the Explora way with, the local guides and on foot. We both really enjoyed it - and not just the history, the moais and the ahus, but also learning from the islanders about themselves and their culture. There were two walks a day and we did them all, so we had a really good 'go' at the island. It was a truly wonderful few days, 5 nights was perfect; 4 nights would have been just enough, but it would have felt a bit rushed. - SH (February 2008)