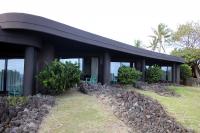 Hangaroa Eco Village & Spa
Location
Outskirts of Hanga Roa (Easter Island, Chile)
Description
A sympathetically designed hotel which echoes the traditional architecture and landscape of the island. There are various outdoor pools, a large spa, a pool snack bar and two other restaurants.
Activities
The full experience package includes a number of shared excursions, including a boat ride and snorkel trip and visits to the main sites on the island. Additional excursions such as riding and diving are also possible at an additional cost. There is also the option to take one spa treatment instead of a half day excursion.
Accommodation
The 75 rooms are in two rows, all facing the sea. Each is spacious and has an outdoor seating area.
Our comments
A lovely, spacious property which is just a short distance from town (guests can borrow bikes and make their own way if they like). There are landholding issues and therefore placards outside the hotel entrance, but this does not detract from the stay at all and the issue is with the government, not with the hotel.