We help our clients and potential clients design Latin American itineraries every day. Since we are known as tailor-made specialists no two trips are ever quite the same, and some end up being so unusual that they surprise even us. To celebrate that everyone is different, and perhaps to inspire you, every month we choose an itinerary that we all agree stands out from the rest; usually one of those where "I wish I was doing this trip" can be overheard in the office!
July 2017 - Wildlife in northern Argentina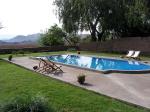 Pool at Hostal Molinos
The Brief: Although most of you get in touch by telephone and email a face-to-face meeting can be more productive. Ed chatted to some visitors to the Destinations Travel show (London Olympia, in January/February each year) about their travel plans. They were interested in northern Argentina and southern Brazil and he suggested some areas to explore and sensible routings. Once back in the office Ed and Emily worked on an itinerary.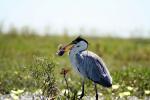 Great blue heron in Iberá
The Conclusion: After a few tweaks the clients decided to explore Buenos Aires before flying to Salta (north-west Argentina) for a self-drive section. Their route takes them south of Salta to Cachi and Cafayate for spectacular scenery, cactus deserts and wineries. A flight via Buenos Aires brings them to the Iberá wetlands, an area teeming with wildlife, where from their comfortable lodge they will have a chance to spot alligators, capybaras (here called carpinchos) monkeys, deer, otters and many different bird species. Next stop is Iguassu - an easy overland journey visiting the Jesuit ruins of San Ignacio Mini mission en route. The Iguassu Falls are a must see for any itinerary in this area - quite apart from the spectacular waterfalls this is a nature enthusiast's paradise with interesting flora and fauna. Finally a short stop in Rio for its world-famous sights of Christ the Redemeer, Sugar Loaf Mountain and the beaches of Copacabana and Ipanema.
May 2017 - Stargazing in Chile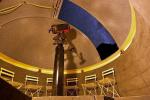 The brief: We always like receiving requests where there is a specific theme or interest, so when an email appeared in our inbox for an astronomy trip to Chile, Ali leapt into action! Not only was the theme stargazing but it was to celebrate a special birthday so it was important to achieve the correct balance of experience and comfort in some spectacular areas. Having discussed the areas which would work well for the time frame and desired experiences, it was decided to include the Atacama desert, Torres del Paine and the Elqui valley - which has several well known observatories. Chile, being a long and thin country, always involves domestic flights and when visiting the Elqui valley these don't always connect well with elsewhere in the country. However after some persistence and determination a workable itinerary emerged.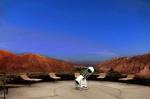 Alto Atacama
The conclusion: The clients opted to start their trip in Santiago with a visit to the pretty seaside port of Valparaiso. Then they headed north to the beautiful Atacama desert for four nights at the wonderful Alto Atacama Hotel, with its own open-air telescope. Next stop was La Serena for three nights for two further observatory visits and a full day tour of the Elqui valley. The final stop of the trip was the far south, Puerto Natales to be precise staying at the Singular Patagonia for four nights to explore the surrounding area and Torres del Paine national park. Steeped in history, this hotel made a memorable end the trip.
Useful links
www.lastfrontiers.com/chile/regions/la-serena-and-the-elqui-valley
www.lastfrontiers.com/chile/regions/the-far-south
April 2017 - Costa Rica family adventure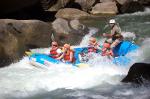 Rafting in Costa Rica
The brief: Sue received a call from a family who had been recommended to Last Frontiers regarding their possible summer holiday to Costa Rica. They wanted a two week summer holiday with a mix of adventure and wildlife; a non-stop international flight from the UK, and a trip that was not too rushed so they could fully explore and enjoy each area to be visited. It was for 2 adults and 2 children and Sue confirmed that Costa Rica sounded like the perfect option. She asked for their preferred dates, if there were any particular requests/interests that needed to be taken into consideration and then immediately began work on a suggested itinerary.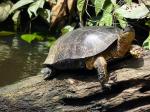 Tortuguero
The Conclusion: Sue looked into suitable flights and having checked hotel/lodge availability (due to the busy time of year) sent the clients a suggested itinerary. They loved it and with a couple of minor tweaks booked a wonderful varied trip: wildlife in Tortuguero on the Caribbean coast; white-water rafting to Pacuare Lodge; the iconic Arenal volcano (with the opportunity to soak in hot springs, swing through the canopy and hike or ride around the base of the volcano). The trip ends on the Osa Peninsula on the Pacific coast – a highlight for most visitors and covered by the Corcovado National Park: mainly primary rainforest with more than 400 species of birds and many amphibians and mammals.
Useful link: www.lastfrontiers.com/itineraries/family-costa-rica
February 2017 - Peru in style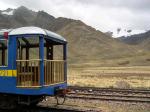 Observation car
The brief: Having read about Last Frontiers in the Telegraph, Nicola received a call from a potential client interested in exploring Peru's highlights in the utmost comfort. They also hoped to be one of the first guests to travel on board Belmond's new Andean Explorer - South America's only luxury sleeper train.
Having discussed the differences between the vastly different regions and various accommodation options, it was then a matter of fitting several fixed departure dates within a set time frame.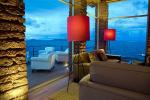 Titilaka, Lake Titicaca
January 2017 - Guatemala and Belize honeymoon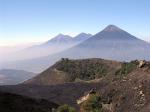 Volcanoes near Antigua
The brief: Lizzy received an enquiry from a potential client planning their honeymoon. They were looking for a 2 week trip for around £3,000 per person including flights from the UK (not easy these days!) somewhere where the climate would be optimal during late September to late November. Lizzy suggested either Mexico's Yucatan peninsula or a combination of Guatemala and Belize.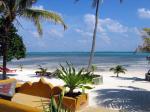 The beach at Portofino
The conclusion: 14 days in Guatemala and Belize, combining colonial Antigua with Lake Atitlan, and a visit to the incredible market at nearby Chichicastenango. The honeymooners will then fly north to Flores - a base from which to visit the magnificent Maya site of Tikal - before taking a hopper flight to Belize for some relaxation on Ambergris Caye. Their final hotel is one of our favourites, particularly for value - the Portofino.
You might also like
www.lastfrontiers.com/itineraries/classic-belize
www.lastfrontiers.com/guatemala/itineraries
December 2016 - Galapagos and Peru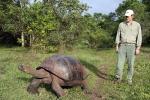 Giant tortoise
The brief: Sue received a call from a client of an Africa specialist tour operator, who had kindly recommended us as Latin American specialists. They were interested in either the Galapagos or Peru and Machu Picchu, and apart from the wildlife wanted good walking, but preferred not to camp.
Having discussed the different Galapagos boats and their itineraries (all with different highlights and wildlife), and the various lodges and treks in Peru a decision was made to do both (a classic combination, but one that needs enough time to avoid rushing) and make this a trip of a lifetime!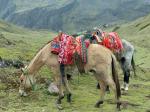 Lares valley
The conclusion: When the clients mentioned they would love to do a hike but would prefer not to camp Sue discussed the 5 and 7 day Lares Valley Cultural Adventure (a hike through the Lares valley visiting local villages known for their weaving skills and taking in some stunning scenery). She also mentioned the Salkantay Trail, a longer, high altitude trek with wonderful scenery. The Lares Valley hike seemed to tick all the boxes and the clients opted for the longer hike.

It was then a matter of fitting everything together, booking flights from Edinburgh and working around the departure dates of both the trek and a suitable cruise, plus getting the price right.
You might also like
www.lastfrontiers.com/itineraries/peru-and-the-galapagos-islands
www.lastfrontiers.com/itineraries/walking-in-peru
www.lastfrontiers.com/galapagos/regions/cruises
November 2016 - trekking in northern Argentina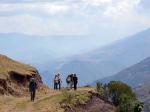 Classic Peru trek
The brief: Ali worked on a trip for a client from Canada. He'd done all Latin America's classic walks and knew he wanted to return to the high Andes between northern Chile and Argentina. He knew he needed expert guiding, and wanted to meet local people rather than just admiring the views.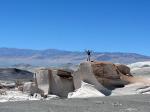 Altiplano
The conclusion: They discussed the areas round San Pedro de Atacama or Lauca (wrong time of year), considered southern Bolivia (not enough local support), and in the end agreed that the altiplano west of Salta ticked all the boxes. It's remote, has spectacular lunar landscapes but enough (simple) accommodation to make a trip possible within a reasonable budget, and our local supplier has many years' experience in organising just this sort of adventure. They also have close links with several local communities who appreciate the economic benefit that tourism can bring.

Was that a new pair of hiking boots that Ali has just ordered?

You might also like
www.lastfrontiers.com/argentina/itineraries
www.lastfrontiers.com/articles/view/sue-in-north-west-argentina-september-2014