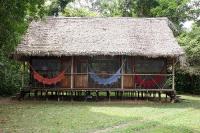 Chalalán Jungle Lodge
Location
Rurrenabaque (The North, Bolivia)
Description
The Chalalán Ecolodge is in the Madidi National Park, an area of some 4.5 million acres ranging from snow-peaked Andean Mountains to the Western Amazon basin.
Activities
Guided nature hikes (30km of carefully designed trails), birdwatching, canoe trips, swimming, night hikes.
Accommodation
Reached by a short hopper flight from La Paz and then a 6-hour boat trip up river, the lodge is now 100% managed and owned by the indigenous community of San Jose de Uchupiamonas.

Mainly traditional Amazon-style cabins made from local materials with four shared bathrooms and shower facilities. Running water is supplied by a solar-power plumbing system and there is a dining room, bar, and library stocked with field guides and reference materials. There are three exclusive cabins with double beds and private bathrooms, and four family cabins with three rooms, 2-3 beds, private and/or shared bathrooms.
Our comments
4 nights recommended.
Client comments and reviews
Just perfect. The staff at the Lodge were just wonderful and we had an excellent guide, Ronny, who knew his stuff. Our lodges were comfortable, and actually cool at night. We got used to the cold showers (and they were cold) and the only lighting between 6:30 and 09:30. Everything was so well organised - an early start to beat the heat, then lunch at the lodge and time to relax before another another activity in the afternoon, dinner and a very short night activity. We walked miles and saw loads (they have enough trails for a week). The boat trip upriver was an adventure in itself and on the way back to Rurrenabaque, we were so lucky as we saw a jaguar on the bank of the river. - SH (September 2018)