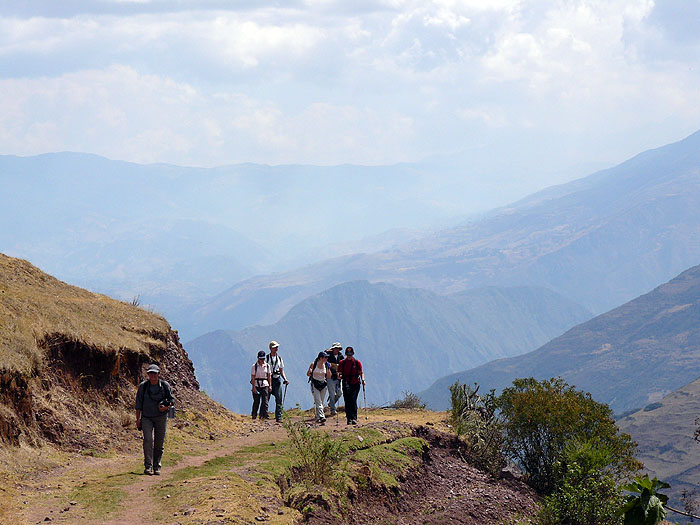 Walking in Peru
from the classic Inca trail to less-trodden paths through the Sacred Valley and hikes in the Cordillera Blanca
The Inca, despite their other successes, never discovered the wheel - and perhaps they didn't need it, because Peru is a country made for walking.
To enquire about this itinerary, or one like it, please email us or click the Enquire button.
Itinerary summary
The classic Inca Trail
The one everyone has heard about! This is a superb high altitude walk that combines stunning mountain scenery, diverse ecosystems, and the unsurpassed archaeological riches that line the royal Inca road to the citadel of Machu Picchu. A permit system controls numbers successfully, but doing the trek in four nights helps avoid the busiest camp sites and allows a stay at the Inca site of Puyupatamarca.
Day 1: Km82 to Huayllabamba • Day 2: Pacasmayo area • Day 3: Puyupatamarca • Day 4: Machu Picchu • Day 5: return to Cusco
The Salkantay trail
A popular alternative route from Cusco to Machu Picchu, this six night route has two advantages. Firstly, most of it is on local paths and mountain tracks so luggage can be carried by mule or horse (the last day is a classic Inca trail, via Llactapata, where hooved animals are prohibited). Secondly, there is no need to camp if you prefer a comfortable lodge each night.
Day 1: Mollepata to Soraypampa • Day 2: Soraypampa, Salkantay • Day 3: Wayraccmachay, Humantay • Day 4: Collpapampa • Day 5: Lucmabamba • Day 6: Machu Picchu • Day 7: return to Cusco
The Lares valley cultural adventure
This beautiful hike takes place in the Lares valley, which joins the famous Sacred Valley of the Incas near Ollantaytambo (from where trains leave for Machu Picchu). Perfect for families, apart from stunning scenery this is a journey that takes in small villages known for their weaving skills, lakes, and waterfalls. The Lares trail can be 4 or 6 nights (please contact us for details on the longer trail) and like the Salkantay Trail, it is now possible to stay in comfortable lodges (or camp).
Camping
Day 1: Sacred Valley - Quisuarani • Day 2: Huacahuasi • Day 3: Patacancha valley • Day 4: Pumamarca - Ollantaytambo - Machu Picchu • Day 5: return to Cusco
Mountain Lodges of Peru itinerary (staying in lodges)
Day 1: Cusco - Chinchero - Lamay • Day 2: Pisac or Viacha • Day 3: Lamay - Ancasmarca - Lares - Huacahuasi • Day 4: Huacahuasi day hikes • Day 5: Huacahuasi - Ollantaytambo • Day 6: Ollantaytambo - Machu Picchu • Day 7: return to Cusco
The shorter 5 day MLP option doesn't include days 1 or 4. Day 1 starts with a visit to Pisac or a hike to the village of Viacha.
Find out more about the Mountain Lodges of Peru Lares Adventure in Jonny's article.
When to go
All the above treks are best from April to December. The Inca trail and Mountain Lodges of Peru Lares trail are both closed in January and February.
The Cordillera Blanca
The Cordillera Blanca is one of South America's most beautiful mountain ranges and Peru's climbing and trekking mecca. We can arrange many different walks in the region including the popular Olleros to Chavín, longer itineraries to Alpamayo and circuits in the even more remote and stunning Cordillera Huayhuash.
Day 1: Huaraz • Day 2: Pampamache • Day 3: Quebrada Paria • Day 4: Taullipampa • Day 5: Llamacorral • Day 6: Huaraz • Day 7: return to Lima
When to go
April to October.
Accommodation options
In the following section you will see our suggested options for possible accommodation.
Inca Trail - $1,790 shared group trek, departs Tuesdays
This is camping and trekking in style. Whilst walking all you need to carry is a daypack, all camping equipment is carried by the porters. Most meals are included. A typical itinerary:
From Cusco travel down into the Sacred Valley of the Incas by train. Begin the walk from Kilometre 82, passing Inca ruins at Llaqtapata followed by a slow ascent up the Chusichaca river valley to the village of Huayllabamba. The next morning is the biggest challenge with the slow, hard walk up to Warmiwañusqa (Dead Woman's Pass) at 4,200 metres. Descend to the Pacasmayo camp site, which can become extremely busy. On the third day climb up to the Runkuracay Pass (views of snow-capped Humantay and Verónica peaks), and descend to the fantastic ruins at Sayacmarca overlooking the Aobamba valley. Walk through cloud forest along Inca stairways with yet more views of Salcantay, Sacsara and the Vilcabamba range before arriving to camp at Puyupatamarca ('town in the clouds'). The next morning, with the world below you, descend past the Intipata terraces to beautiful Winay-Wayna, the Sun Gate and Machu Picchu. Orchids line the way and you either camp below the ruins beside the winding Urubamba river or spend the night in a hotel in Aguas Calientes. The following day explore Machu Picchu itself before the afternoon train departs for Cusco.
Salkantay trail - $2,990-3,990 with Mountain Lodges of Peru
This is a comfortable and fascinating alternative to the traditional Inca Trail, arriving to Machu Picchu via the Llactapata Inca Trail. You stay in small lodges with the luxury of a soft bed and hot shower at the end of a day's hiking. Apart from one challenging day (horse backup available!) the trek is moderate and covers approximately 63km (32 miles). Whilst there are some steep uphill and downhill sections, the scenery and views are unforgettable.
Lares trek - $1,899-3,300 with Mountain Lodges of Peru
The Mountain Lodges of Peru Lares Adventure is a multi-activity trek, culminating in a visit to the Inca Citadel of Machu Picchu. The Lares Valley is famous for its Quechua communities, strong weaving traditions and beautiful scenery all of which can be seen throughout this five or seven day adventure. The shorter trail includes one night at each property and the longer trail includes two nights at Lamay and Huacahuasi lodge. Unlike other treks, there are a choice of activities/walks each day, which vary from more cultural excursions (including cookery classes and visiting local markets) to more strenuous activities (like longer and more demanding walks).