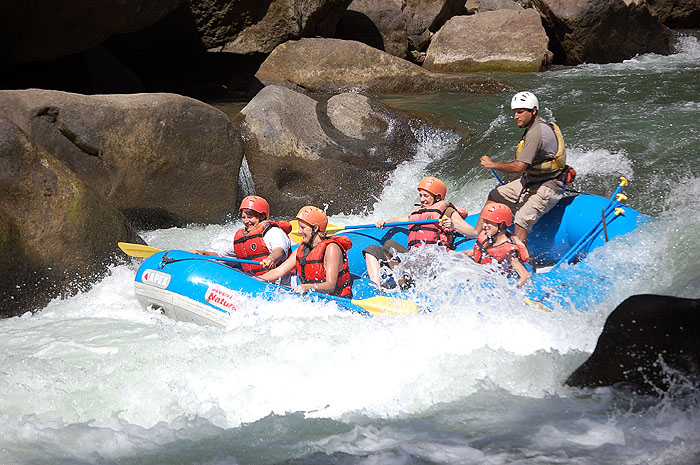 Family Costa Rica
white-water rafting, abundant wildlife, canopy zip-lining and beautiful beaches
This 12 day itinerary includes plenty of activities to keep children entertained, and the whole family can enjoy the diversity of this beautiful, friendly country, with time to relax on a beach at the end.
To enquire about this itinerary, or one like it, please email us or click the Enquire button.
Itinerary summary
White-water rafting in the Central Valley
Days 1-3: After a first night in San José, travel south-east by road to the Pacuare river. After a safety briefing a 2 hour rafting adventure begins (no previous experience is needed). Two nights in a remote, yet comfortable lodge allows time for more activities - trekking, canopy tours, riding or a visit to a local village.
Poás volcano
Days 4-5: Raft out of the lodge (grades 3-4) and return to the Central Valley. Stay for two nights in a family-run lodge on the edge of the Poás National Park, within easy reach of its steaming volcanic crater. The La Paz waterfall gardens and butterfly farm are nearby as are coffee plantations and craft villages.
The Osa Peninsula: wildlife and jungle
Days 6-8: Catch a morning flight down to Osa in a light aircraft, for a bird's-eye view of forested hills and palm-studded coastline. Transfer by road or boat to a remote lodge where you will spend three nights. Half of the Osa Peninsula is covered by the Corcovado National Park, allegedly one of the most biologically intense places on earth. Excursions can be arranged locally and there is plenty to keep the whole family occupied: nature walks, night walks, surfing, kayaking, tree-climbing, riding and swimming or snorkelling.
Manuel Antonio's beaches
Days 9-12: Driven north to Manuel Antonio National Park. Spend three nights here - the wildlife in the famous park shows little fear of man and there are two beautiful beaches to enjoy. Just outside the park are several establishments offering zip lines and canopy walkways.
Return by road to San José for onward connections.
Accommodation options
In the following section you will see our suggested options for possible accommodation.
The estimated flight cost included in this itinerary (assuming international flights from the UK plus any internal flights that are necessary) is £850 per person.
Price and validity notes
We have tried to give you as accurate an idea of prices as possible, including meals where appropriate (but not when there are good local options so you don't pay for a meal that you might not want), accommodation, transfers, and any tours we have included.
All prices are per person based on two people sharing a room and are intended as a guide (local high or low seasons can cause some variation). All prices were correct when published but may vary with exchange rate fluctuations, fuel surcharges, or changes in the general economic situation.