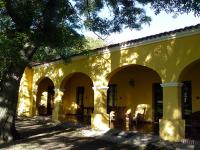 San Pedro Viejo
Location
200km north of Cordoba (Córdoba, Argentina)
Description
A family run, working estancia in San Pedro Norte, 200km north of Cordoba, which dates back to the 17th Century and has been nicely renovated maintaining the original features. The main house is built of sun dried clay brick and stone with a thatched roof. It has a bar, cosy sitting room with a fireplace, dining room and terrace overlooking the pool. The area is one of the only 3 areas in Argentina where the natural Palms grow and the Chapel is the oldest chapel in Cordoba province.
Activities
Riding - Peruvian Paso horses, carriage rides, hiking, mountain bikes, cooking classes and tours to nearby Jesuit estancias.
Accommodation
There are 7 comfortable, spacious and stylish rooms with colonial and Creole furniture, modern bathrooms and the suites have a Jacuzzi bath.