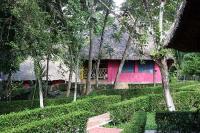 Escudo Jaguar
Location
Frontera Corozal (Bonampak and Yaxchilan, Mexico)
Description
A simple hotel run by the local community on the Usumacinta River. It has a restaurant and internet facilities.
Activities
Visit Bonampak and Yaxchilan.
Accommodation
Cabins are scattered around the gardens, some with shared bathrooms.
Our comments
Escudo Jaguar serves no alcohol but you can always take your own. Although simple, this hotel is well positioned for the border crossing to or from Guatemala.
Client comments and reviews
The sites were all brilliant and Escudo Jaguar was fine for just one night. - JJ (November 2008)