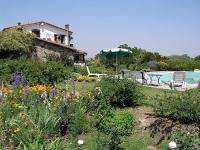 Casa Arnaga
Location
San Lorenzo (Salta suburb) (Salta, Argentina)
Description
Well out of San Lorenzo and on the road to Lesser, the house has 2 large sitting rooms,a dining room, good pool, and superb gardens. Lovely views over the surrounding hills and a hydraulic ram for water.
Accommodation
4 bedrooms upstairs (3 of which have bathrooms, and 2 balconies), and one downstairs.
Our comments
Impeccable, B&B style, car recommended.