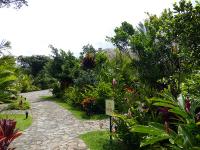 Rio Celeste Hideaway
Location
Tenorio (Rincón de la Vieja and Tenorio, Costa Rica)
Description
One of the most comfortable hotels in Tenorio. The main building has a Balinese feel to it, and houses the restaurant, bar and reception. In the grounds is a large pool and a spa.
Activities
A 5 minute drive from the hotel is the Tenorio National Park, home to the beautiful Celeste waterfall and river. Inside the park there are a number of marked trails. This hotel is an excellent base for riding, walking and birdwatching.
Accommodation
There are 26 separate bungalows tucked away in the gardens, each with an outdoor and indoor shower and private balcony.
Client comments and reviews
We had a large and spacious bungalow with forest surrounding it, and saw toucans and other birds around the hotel. There was a lovely pool, but there was a large group of 34 staying there when we arrived which did spoil it a bit. The dining area is rather too big but the food was very well presented and the staff very nice. We had a great guide on our hike to Rio Celeste waterfall and saw a few interesting birds and vipers. It was fascinating seeing the blue waters and sulphur bubbles, and the 252 steps down to the waterfall were well worth the effort of coming back up in the heat! - AB (February 2019)
The room was superb, staff very helpful and friendly, the surroundings delightful and the food delicious. The Finca Verde visit was very enjoyable and we saw our first sloths as well as lots more. The bird walk worked out very well because in the early morning, it was very misty and after 90 minutes or so, our guide offered to return in the afternoon, so we had another 90 minutes later that day - another example of the helpfulness and flexibility of our hosts. - GD (November 2018)
An excellent hotel and we were lucky that it was dry when we arrived and could take the path from the hotel to the river. We had showers for our hike in Tenorio Park and Rio Celeste and due to the rains the pond wasn?t as blue as it would normally be which was a shame, but it was still nice and interesting to see where the two rivers meet and the water changes colour. - MR (December 2015)