My recent trip to Guatemala and Belize took me to a few of the lesser visited Maya sites which I found well worth the trip. All are a lot smaller than the well known sites like Tikal and Caracol but each has its own character.
Iximche, Guatemala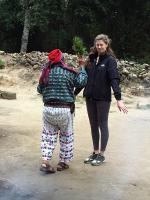 Emily being cleansed
Iximche is one of the 'newer' Maya sites and was abandoned in 1524. We were lucky enough to visit this site in the late afternoon when there was virtually no one else there. It is just 90 minutes away from Lake Atitlán and is a convenient stop off when coming from Antigua or Guatemala City.
On our way we picked up a local shaman from a neighbouring village to lead a Maya ritual for us. I was a little bit sceptical but the Shaman was calm and professional and soon I found myself completely relaxing into the whole experience. The fire crackled merrily away, burning all its colourful candles while we thanked all the gods, 13 times, for 20 different things, including water and fire etc.. It was repetitive but soothing.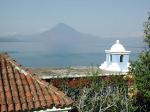 Casa Palopó
Our experience was a group ritual of thanks but Iximche has many altars, all of which are used by shamans and the local people for small private ceremonies as well as large celebrations.
For accommodation near here I loved Casa Palopó on the edge of Lake Atitlan:
www.lastfrontiers.com/hotels/guatemala/lake-atitlan/casapalopo
Uaxactun, Guatemala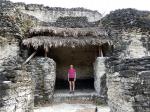 Uaxactún temple
Just a 45 minute drive from Tikal this small site is on the outskirts of the village of Uaxactún. There is a community-run 'glamping' spot with 7 comfortable tents each with twin beds, a side table and shared bathrooms. All food is prepared by families from the village and a highlight for me was star-gazing whilst lying on top of one of the Maya temples after dinner. Although the site is very small, it is spectacular at sunrise and the whole experience truly enhances an already special Tikal visit.
Uaxactún tent
Lodging alternatives near here can be seen on this link:
www.lastfrontiers.com/guatemala/regions/peten-and-the-north
Jungle Lodge is virtually inside the Tikal site; the nearest 'posh' choice would be one of the hotels on the shores of Lake Petén Itzá; or for a more atmospheric and intimate experience you can stay in the tents on the site itself.
Xunantunich, Belize
Xunantunich
This fascinating site involves an unusual journey to reach it. You have to cross a small river on a hand-cranked ferry; there are then small shuttle buses which take visitors up the steep and curving road to the site.
I visited this site the day after Tikal and was expecting it to be unimpressive in comparison. I was therefore delighted to find the ruins of Xunantunich to be breath-taking and beautifully green, as the area is covered in grass and surrounded by trees. A real highlight is being able to climb up to the top - not a safely rail or sign in sight! The photos look fantastic; the green grass provides a perfect background for the greying stone buildings.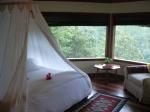 Gaia Riverlodge
Nim Li Punit, Belize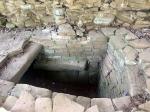 Nim Li Punit
Nim Li Punit is most well-known for its Stelae Plaza but has always been overshadowed by better-known Tikal or Chichén Itzá. It now has a new claim to fame as very recently a team of archaeology students discovered a large jade pendant. Large is an understatement, it is the second biggest piece of jade ornament ever to have been found, measuring in at more than 7 inches in length!
Due to a lack of security the jade pendant is not on show (when I visited it was in the Central Bank of Belize). There is however an amazing stela at the site which clearly shows the pendant being worn by its owner.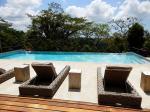 Copal Tree Lodge
I thoroughly enjoyed my trip to Guatemala and Belize and recommend visiting some of the lesser-known ruins. In both countries there is plenty to do and they combine well to make a great two week itinerary.
The following could be combined:
www.lastfrontiers.com/guatemala/itineraries
www.lastfrontiers.com/belize/itineraries