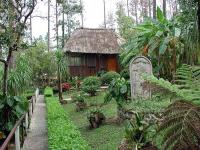 Gaia Riverlodge (formerly Five Sisters Lodge)
Location
Mountain Pine Ridge (The Highlands, Belize)
Description
Set in 10 acres of private land, surrounded by native pine forest overlooking Five Sisters falls.
Activities
Excursions to the Maya sites of Tikal and Caracol, waterfalls and spectacular limestone caves.
Accommodation
The property has 12 thatched cabañas and 1 larger cabaña with 4 individual rooms within. The cabañas are dotted throughout the property's gardens. All vary slightly, most have spectacular views of the waterfalls far below and some have a veranda and hammocks.
Client comments and reviews
We very much enjoyed the service from the team and the charm and finish of 5 Sisters. We were put in Toledo cabana, which spoilt us! - JH (March 2007)