Ancient Maya sites and lush tropical jungle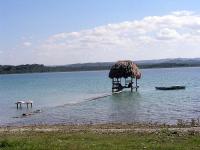 The sparsely populated region of El Petén in northern Guatemala is the country's steamy jungle zone. Varied wildlife includes howler monkeys, toucans, wild turkeys, coatis and many bird species.
The superb Maya ruins of Tikal are the largest in the region, with over 3,000 structures, shrines, temples, ceremonial platforms, terraces, ball courts and plazas. The site is thought to have been occupied as far back as 300 BC, and is set in lush semi-tropical rainforest over an area of 220 square miles.
Lake Petén Itzá has several pretty towns and villages along its shores and offers many relaxing water-based activities. In addition to the Maya ruins sites of Uaxactún, Yaxhá, Ceibal and Aguateca, opportunities for spotting native wildlife in parks, forest reserves and environmental education centers abound.
Our preferred accommodation