Welcome to our autumn newsletter, the first after Olympic fever gripped the nation and we decided to run a Latin American Medal Table (with Brazil the eventual winners). By the way, if you are considering Rio 2016 then do let us know - we have already compiled a fact sheet on the practicalities which we are happy to send to anyone who is interested, and can send updates as the time approaches.
In this issue: Office news ♦ Last Frontiers' Top Three - Wildlife experiences ♦ Last Frontiers in the press ♦ Staff travels - Brazil, Costa Rica and Cuba ♦ Travel events - dates for your diary
Office news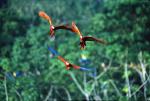 Macaws in the Amazon
Yesterday we welcomed Tracy back to the office after her maternity leave - she will be working three days a week (as do Lizzy and Rebecca) so she also has time to look after Leo and Amy. Just before Ed (Miles) abandoned us for Western Australia he suggested we compiled a 'top 3' on various themes, so we have chosen:
Our Top Three: Wildlife experiences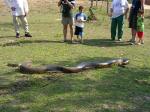 Anaconda in the Pantanal
In no particular order, we have Peru's Tambopata Research Centre: one of our clients has just emailed us photographic evidence of the jaguar they saw while on a jungle walk.
Out of the jungle (which increases your chances of actually seeing the wildlife) we love the Brazilian Pantanal. So too, we hope, does Michael Palin, whose new series on Brazil starts next week (9pm on 24 October, BBC1). His fixer was none other than Steven Chew, whom many of you will remember from his time at Last Frontiers.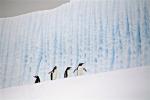 Gentoo penguins
Finally, and for a complete contrast, you can't beat Antarctica. The Ocean Nova has a special whale photo-safari on its Classic Antarctica departure from 1-10 March 2013 (this will fill fast, and whilst expensive, there is a price incentive for bookings made by 31 October).
Last Frontiers in the press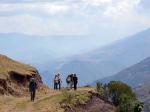 Trekking near Cusco
We have helped and advised several journalists recently: John Gimlette (winner of the latest Dolman award for travel writing - many congratulations John) had an article on Peru published in the FT; he trekked the Lares trail and visited the latest Orient Express property in Cusco, Palacio Nazarenas.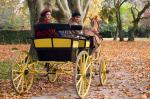 Carriage in the park
Chris Moss (ironically a judge on the Dolman panel!) returned to Argentina, which he knows well (he wrote the first Time Out Buenos Aires guide). He found a lovely new estancia for us (Las Viboras) and also visited a few old favourites.
Staff travels - Brazil, Costa Rica and Cuba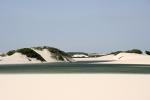 Lençois Maranhenses
Oli was in Brazil: "My trip began in Rio and it did not take me long to remember why I am so fond of Brazil: the food, landscape, culture and most importantly the people are truly wonderful. I headed north to São Luis in the state of Maranhão. São Luis old town is a labyrinth of cobbled streets and terracotta roofs, perfect for exploring on foot. During my time in the area I visited the beautiful rolling dunes and lakes of the Lençois Maranhenses National Park."
Oli's complete report: https://www.lastfrontiers.com/articles/view/brazil-oli-visits-the-natural-wonders-of-the-north-east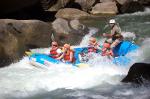 Rafting the Pacuare
Claire visited friendly Costa Rica: "First stop was steamy Tortuguero, where boat trips through the canals allow for a whole host of wildlife spots. Rafting down the Pacuare river from the remote Pacuare Lodge, followed a couple of nights down in the Osa Pensisula, the real jewel in Costa Rica's lush crown, were the next highlights. Cloud forest around Bajos del Toro and a lovely new find (the inland town of San Gerardo de Rivas) led to a couple of the country's classics: Arenal and Manuel Antonio."

Claire's trip report: www.lastfrontiers.com/articles/view/pura-vida-claires-adventures-in-costa-rica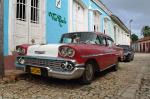 Car in Trinidad
Jonny travelled to Cuba in June: "I visited the bodegas of Havana, the revolutionary battle grounds of Santa Clara, and the pristine beaches of the cayos. My whistle-stop tour focused on the central and eastern highlights, which included finding myself in the midst of a carnival in Camagüey and discovering I had two left feet in the salsa houses of Trinidad.."

www.lastfrontiers.com/articles/view/walking-into-a-postcard-jonny-in-cuba
Dates for your diary
We really enjoyed seeing many of you at our Surrey Inspirational Globe event in June, and are planning another for next summer (Sunday 9 June 2013) on the Essex/Suffolk border at another beautiful Landmark property. Meanwhile, we will be back at Chandos House on Wednesday 6 February from 4-8:30pm. We are sharing this event with our friends at Transindus (they must be good, my wife is going to Bhutan with them next month). Further details to follow, but it will include talks and a tea tasting!
With best wishes from Edward and all at Last Frontiers
Edward Paine
Last Frontiers Limited
Tel: 01296-653000 | info@lastfrontiers.com | www.lastfrontiers.com
The Mill | Quainton Road | Waddesdon | Buckinghamshire | HP18 0LP
"A huge heartfelt thanks to you, for organising the most fabulous trip - it was all we'd hope for and much, much more from start to finish. The travelling although there was quite a lot of it, was smooth, the connections were seamless, and we were assisted brilliantly all the time. The location of the hotels was brilliant; and the courtesy and helpfulness, wherever we stayed was second to none. The Galapagos was absolutely sublime; the crew and guide were amazing and made our 'dream holiday' even better. There was plenty of attention to detail - a champagne toast as we crossed the equator, towels reshaped every time we left the cabin into a piece of art - seals, fish and flowers. The up-close wildlife experiences were awesome - particularly swimming with sea-lions and turtles, and we were lucky enough to encounter a large pod of Orcas and over half a mile of dolphins trying to make their get-away, during one of our 'navigations' from one island to another. Thank you for all you hard work on our behalf should I ever wish to visit South America in the future, you will certainly get my business, and I will recommend you to anyone, and everyone."