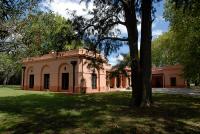 Estancia Las Viboras
Location
Dolores (The Pampas, Argentina)
Description
Around 3 hours south of Buenos Aires. An impressive working estancia with extensive grounds and a swimming pool in the heart of the Pampas. The original house dates from the 1820's, with beautifully decorated interiors and the owners, Sandy and Gigi Dodero, are very welcoming. Plenty of asados and typical food eaten communally.
Activities
Horse and carriage rides, riding, farm activities.
Accommodation
There are nine comfortable rooms; most are ensuite and with a fireplace.
Client comments and reviews
Las Viboras was everything I hoped it would be, and more. Our host was fantastic. The way we got to see/get involved with all the workings of the ranch, was brilliant. On one day we did two horse rides, watched horses having internal ultrasounds to check for pregnancy, and watched a pony being castrated. You don't get many of those days! It was a privilege to be welcomed into the family home and I'll never forget this trip. - VG (November 2019)
A great destination – for us at least. The riding was great. The owners were there for the first day and rode out with us and then they went back to Buenos Aires leaving their cousin who rode out with us. We did as we wished and had a great time. The food was good and we loved the place. Our room was excellent. - JK (April 2014)