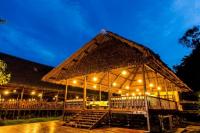 Tambopata Research Centre (TRC)
Location
Tambopata (Tambopata and Manu, Peru)
Description
On the Rio Tambopata, 6-8 hours upriver from Puerto Maldonado. The immediate forest offers fantastic possibilities for viewing the jungle's denizens, including primates and other mammals.
Activities
25km of trails, 480 species of birds, and the world's largest macaw clay lick just a few steps from the lodge. At certain times of year guests can kayak down the river on departure (extra cost). Stand up paddle boards and also canopy climbing are also available at extra cost.
Accommodation
Built 3 metres above the ground, the lodge has 24 rooms that open out into the surrounding rainforest. All rooms have private facilities, hot water and electricity during certain hours.
Our comments
As one of the most remote lodges, a stay at TRC offers a true Amazonian experience particularly for wildlife enthusiasts. To reach the lodge, a flight to Puerto Maldonado is required, followed by a bus and boat transfer. The first night of a stay is spent at Refugio Amazonas to avoid travelling by boat in the dark. From there, it is a 4 hour boat trip to the TRC.
Client comments and reviews
We loved Tambopata - so isolated, with lovely staff and a totally relaxed atmosphere. We were able to ask for extra excursions with no problem. The guide at Tambopata was really friendly and couldn't do enough for us - he even took us on a 'shoes off' mud up to the ankels walk which was hilarious! - CC (July 2015)
We had a really fantastic time. We saw jaguar, puma, eight types of monkey, two types of caiman, peckary, deer, short eared dog, southern tamandura, forty species of bird and countless frogs, insects and butterflies. Magical scenery, fascinating culture and such wonderfully friendly people. - RT (September 2012)
Day Nineteen: Tambopata to Refugio Amazonas. Today was the most amazing day of my wildlife watching life. It started with a kinkajou in the trees as we walked down to the river. We then spent a couple of hours at the claylick at which I also saw a razor-billed curassow. We then headed back down Rio Tambapata and en route we saw the critically endangered giant river otter. But then the piece de resistance - our navigator shouted "jaguar" and we turned to see a beauty wandering back from the shore into the jungle. It was a long way away, but thankfully my wife had the 300mm lens and we managed to get a photo. I never believed it possible that I would see a jaguar in the wild. A phenomenal moment. - PM (August 2011)
The suggestion to go up to the TRC in the Amazon was a great recommendation. It was a great trip and worth the 4 hour boat trip each way. The clay lick was amazing. - AS (July 2009)