"Pura Vida", Costa Rica's most relentlessly-used phrase, literally meaning 'pure life' but seemingly appropriate as any positive response in any given circumstance. Whilst mildly grating by day three for the more cynical among us, the phrase and its usage does sum up quite nicely not only the abundance of (wild)life that this tiny country has to offer but also the refreshing outlook which Ticos have on life. And why wouldn't they, living in a tropical paradise? A quarter of Costa Rica's minute landmass is protected and 5% of the world's biodiversity can be found there; add the beautiful beaches, the smiley, happy people, levels of accommodation and service to write home about and you have the perfect recipe for a fun-filled trip! Thanks to its convenient shape and compact size, there so many combinations which work and much of the travel can be done overland (even hire your own car if you fancy the freedom). So I, in the interests of research, attempted to fit at least a three week trip into twelve very long, action-packed, exhilarating days and the following were just some of my best points.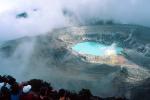 Poás crater
My first night I was welcomed like a long-lost relative by new, charismatic manager Beba Lobo at Poás Volcano Lodge. Poás reopened just over a year ago following complete renovation after the terrible destruction caused by the 2009 earthquake. The British-owned lodge is about forty five minutes' drive from the international airport on the way (funnily enough) to Poás volcano. Very homely, the personalised service and attention to detail were second to none. The staff all speak beautiful English, most having spent a stint in the UK, and they even pop a hot water bottle in your bed in the evening!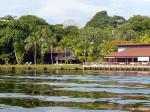 Tortuga Lodge
A bracing 4am start and we were on a short flight to Tortuguero (or 'land of the turtles'). Do not be fooled by the name as a glimpse of the elusive turtles is not guaranteed, though the green turtles are most easy to spot during the nesting season - July to October. They are far from the only reason for visiting the area, one of Costa Rica's greatest treasures: Tortuguero National Park is made up of a network of flooded waterways, lagoons and dense rainforest, rightfully earning it the nickname of Central America's Amazon. A boat ride through the canals is the perfect opportunity for spotting a whole host of creatures big and small; we saw caiman, monkeys, a river otter and several types of bird including the adorable pygmy kingfisher.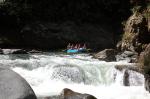 Pacuare rafting
Heading back inland and south by boat then road took us to Pacuare Lodge near Turrialba, the long-awaited Last Frontiers' Dream Destination for which I had ridiculously high expectations, which to my utter relief and delight did not come crashing down upon arrival. The lodge holds a privileged position right on the edge of Pacuare River and is most easily reached by raft. Pacuare started in 1987 when rafting had just taken off in Costa Rica, initially it was just 16 hectares of land and no buildings but people could camp with very basic facilities. It could not be further from the 340 hectares the luxury lodge now owns, luxury in the most unadulterated sense, the rooms ooze style and comfort but in a back-to-basics manner. There is no electricity in the rooms, the WiFi password is kept under lock and key, the remoteness is what makes it so special, there are no shoes allowed in the main building and everybody knows your name, it is not home from home, it is home as you wish it could be. Perhaps my girly romanticism got the better of me but it was certainly the best night's sleep I had had in a long time!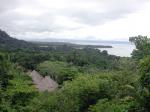 Osa
Down on the south pacific coast the Osa Peninsula is just stunning: proper lush, verdant tropical exuberance, it's the place to go if you are looking for that real rainforest wilderness experience. Roughly a third of the peninsula is Corcovado National Park, for many the jewel in Costa Rica's green crown. The park is a Mecca for wildlife enthusiasts and offers some of the best independent hiking. Beyond hikes, kayaking and surfing are also available at various points on the peninsula which is also the closest mainland point to Caño Island, a popular day trip which offers some fantastic diving and snorkelling.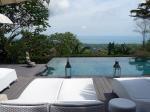 Manuel Antonio
A little further up, en route to Manuel Antonio National Park the area around Dominical is really opening up to the European market with several interesting accommodation options. The town of Dominical itself is a long-established budget beach destination and surfing hang-out. Locally, just outside the town of Uvita, Dutch-owned Oxygen Jungle Villas is a great honeymoon option for those looking for a private getaway and the central, yet isolated location means that it makes a brilliant base for a variety of day trips (e.g. Caño Island, Manuel Antonio, Marino Ballena National Park) for those who do not like being constantly on the move.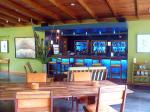 Monte Azul
The real find however, was about an hour inland from Uvita in San Gerardo de Rivas: Monte Azul is a luxury hotel, right at the base of Chirripó, the highest mountain in Costa Rica. The property combines a 125 acre private nature reserve with a designer hotel and contemporary art project. They have a coffee plantation, small farm with goats, chickens and a large greenhouse - they make all sorts of fresh produce on site. The food is just phenomenal and it is the perfect place to relax; in one of the four very private, individually-decorated casitas or outdoors in the extensive grounds which offer various marked trails. If you fancy honing your artistic talent, workshops are held at the on-site art gallery - try your hand at monotype press, soap-making or cookery!
My whistle-stop tour also covered some old favourites: Arenal, Manuel Antonio, the cloud forest around Bajos del Toro, a few lovely options for overnights both in and out of San José, and left me eager to return to this small paradise.