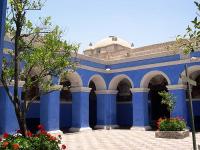 Over 1,000 kilometres south-east of Lima lies Arequipa, the 'white city', nestling below the imposing snow-capped volcano of El Misti. It enjoys an enviable climate, with beautifully preserved and restored colonial architecture, including the Santa Catalina convent, a walled town within the city which was once shrouded in mystery.
Our preferred accommodation
City hotel - Historic centre

A comfortable, central hotel only 3 blocks from the main plaza, behind Santa Cantalina Convent. It is in the former Mint House, a beautiful traditional house and also a national historical monument with two colonial courtyards, a small museum, good facilities and a restaurant.

City hotel - City outskirts

The largest hotel in Arequipa, quite formal but friendly with large outdoor pool and gardens. It also has a gym, sauna, restaurant, sitting area and 24 hour service. A 15 minute walk from the city centre.

City hotel - Historic centre

Fantastic location 1 block from the Santa Catalina convent. A small, charming, colonial house with a restaurant for breakfast, a sitting area and a rooftop terrace.