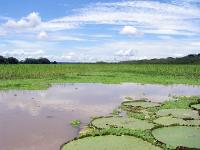 Iquitos, a 1½ hour flight north of Lima, is at the heart of Peru's northern Amazon. The city flourished during the rubber boom at the end of the 19th century and is still lively, buzzing with motortaxis (tuk-tuks). Interesting architecture includes the 'Iron House', built by Gustave Eiffel himself and transported piece by piece from Paris.
The main attraction for visitors, however, is the mighty Rio Amazonas - embarkation point for countless jungle cruises. Upstream is the spectacular Pacaya-Samiria National Reserve, Peru's largest protected area, while downstream, river-boats follow the classic rubber route through tropical Peru, skirting the border with Colombia into Brazil and (eventually) Manaus. Wildlife is most easily seen on tributaries: on the main arteries the effects of river traffic and hunting have made the native fauna scarce.
Our preferred accommodation
Cruise ship - ex Iquitos - Fridays (3N,7N) and Mondays (4N)

Designed by Peruvian architect Jordi Puig, Aria was built to offer luxurious cruises on the Amazon river. Spread over three decks and air-conditioned throughout, this ship has a large observation deck, indoor and outdoor bars, a comfortable lounge, an outdoor jacuzzi and exercise room.

Cruise ship - ex Iquitos - Mondays (3N) and Thursdays (4N)

The Delfin I is a luxury small river boat with 4 very spacious suites, all with private panoramic terraces. On the top deck, there is a open-air lounge area and bar and the the air-conditioned dining room is on the second deck, serving Peruvian cuisine reflecting the cultural diversity of the country and prepared with fresh local ingredients.

Cruise ship - ex Iquitos - Sundays (3N) and Wednesdays (4N)

A traditional Amazon river boat built with tropical woods and decorated with local artefacts. The thatched roof upper deck has open sides with sitting areas and a bar, the restaurant is air-conditioned and the food is excellent.