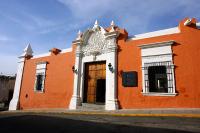 Casa Andina Premium
Location
Historic centre (Arequipa, Peru)
Description
A comfortable, central hotel only 3 blocks from the main plaza, behind Santa Cantalina Convent. It is in the former Mint House, a beautiful traditional house and also a national historical monument with two colonial courtyards, a small museum, good facilities and a restaurant.
Activities
There is a small museum illustrating how coins were minted in the past.
Accommodation
Rooms are spacious with good facilities.
Client comments and reviews
Attractive hotel in great location and very clean and comfortable. Arequipa is a lovely city with some great restaurants. - AB (October 2016)