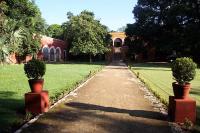 Hacienda Uayamón
Location
40 minutes from Campeche (Campeche, Mexico)
Description
Formerly a 16th Century cattle ranch and a sisal plantation Uayamón has been beautifully restored, maintaining many original features. It dates from 1894, has an impressive entrance and several of the buildings have been left as ruins. The main house has a library, spacious communal area and dining room, plus a wonderful terrace. There is a lovely pool in the old storage house and a spa in the old payment room (the hacienda had 600 employees at its peak) which has the original stone walls. There is also a small chapel and a jail in the grounds!
Activities
There are mountain bikes, a pool and a spa. Visit Campeche and the nearby archaeological site of Edzna.
Accommodation
12 spacious, private bungalows set in the jungle throughout the grounds with an outside patio or sitting area, day bed, hammock and over-sized bathrooms, some with a deep bath. They are traditional but very stylish - rustic luxury!
Our comments
A wonderful place to relax and enjoy the grounds. Good food and friendly staff.
Client comments and reviews
The Hacienda Uayamon was incredible and just what I expected. We ate there both nights and the food was lovely. There were only three rooms occupied so at night it did feel a little spooky walking back to your room but the setting is amazing. - SW (October 2012)
This was one of the highlights of our trip to Mexico, it was an oasis of tranquility and peace after all the tourist sites we had visited, and all the American voices we had heard - what a treat to hear just Spanish again! - SF (February 2009)