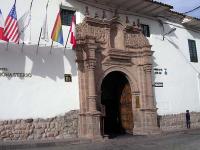 Belmond Hotel Monasterio
Location
Historic centre (Cusco, Peru)
Description
One of Cusco's top hotels, well managed by Belmond (formerly Orient-Express). Set in a beautifully restored 16th Century seminary, the conversion has retained the original charm and characteristics, including the ornate Chapel of San Antonio Abad. The restaurant serves a very hearty breakfast and there is an excellent restaurant for dinner.
Activities
Optional bath butler and massage menus.
Accommodation
A range of room types, with colonial decor, although all of uneven sizes. Some rooms have piped oxygen (at extra cost) and feature bath or shower. The Junior Suite has a mezzanine floor with a sitting area and bathroom below and huge bed above.
Client comments and reviews
Loved the Monasterio - very regal tranquil and comfortable. - MM (September 2008)