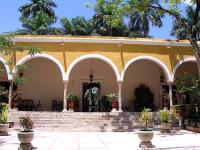 Hacienda Chichen
Location
Chichén-Itzá (Chichén-Itzá, Mexico)
Description
A beautiful 17th century house, formerly used as a base by the archaeologists exploring the ruins, with tropical gardens, a pool and good restaurant. Many original features remain in the main house, it has lots of character and a friendly atmosphere.
Accommodation
Rooms are simple but nicely furnished and set throughout the tropical gardens in cottages that house between 1 and 4 rooms. They are all named after archaeologists that explored the ruins and have terraces with a hammock.
Our comments
In a perfect position for visiting Chichen Itza, a very short walk to the main entrance. The Master Suites are recommended if available.

Client comments and reviews
Hacienda Chichen was a delight - perfect location, beautiful surroundings, excellent food and spacious, comfortable rooms. - GD (November 2018)
The Hacienda Chichen was great and so close to the ruins so I could see why you chose that. The gardens and the rooms were lovely. - SW (October 2012)
We really enjoyed staying here right by the ruins and wished we could have had two nights instead of just one. It was relaxing and very 'Last Frontiers' in character and atmosphere we thought! - CH (December 2010)
Hacienda Chichen was wonderful and we could easily have spent more time. It was lovely to stay so close to the ruins. - MW (November 2009)
Some of the staff continually stressed that service was not included. - JW (February 2007)