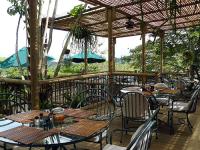 Finca Rosa Blanca
Location
Heredia (San JosÚ and surrounds, Costa Rica)
Description
A lovely boutique hotel with an abundance of character, just 20 minutes from San José airport. There is a pretty pool overlooking the valley and coffee plantations, a hot tub and tropical gardens. It has a good restaurant with indoor and outdoor sitting areas, a bar and small spa.
Activities
There are walking trails from the hotel and a coffee plantation nearby. A range of excursions into the Central Valley can also be organised at the hotel.
Accommodation
The 14 rooms are all individually designed, and decorated with hand painted murals. Some rooms can be inter-connected for families.
Client comments and reviews
The coffee tour at Finca Blanca Rosa was great - it helped there only was one small family with us. The coffee was really good, and accommodation was too as we were upgraded to a villa with a Jacuzzi outside. - JJ (September 2019)
A quiet place with a really nice pool and restaurant. We had a very nice room with a balcony overlooking the garden and beyond. The coffee plantation tour and the guide were excellent, with lovely birds through the plantation. - AB (February 2019)
Finca Rosa Blanca was a real gem. Being put up in what was the original house the standard of decoration was incredible with everything from the floors to furniture being of highly polished exotic and rose woods. A lovely end to a very memorable holiday. - TM (February 2017)
The hotels in Costa Rica were perfect. Rosa Blanca much much nicer than its website suggests. - JG (January 2008)
Finca Rose Blanca is a truly exceptional hotel, I wouldn't have missed it for the world. - ST (December 2006)