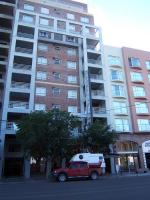 Villa Pirén
Location
Puerto Madryn (Valdés Peninsula, Argentina)
Description
A modern hotel on the sea front, in the centre of town.
Accommodation
The hotel is in two parts, the old and new sections. The better accommodation is in the new part and includes Senior and Premium type rooms which are both large, and have a balcony with good views over the bay. Apartments are available for families.
Our comments
A reasonable hotel in the centre of Puerto Madryn, but with little character.