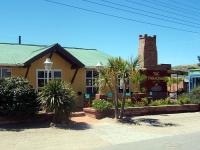 The Paradise Inn
Location
Puerto Pirámides (Valdés Peninsula, Argentina)
Description
This comfortable guest house has 12 rooms, two of which have good views out towards the sea and a jacuzzi in the room. Service is very friendly and the restaurant does a lively trade in the evenings.
Activities
Whale-watching trips go out all day from the wide beach.
Accommodation
All bedrooms are large and have private bathroom, desk area and TV.
Our comments
A nice place to relax in this friendly little village.