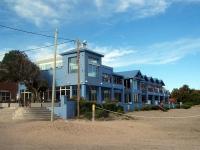 Las Restingas Hotel de Mar
Location
Puerto Pirámides (Valdés Peninsula, Argentina)
Description
A smart, beach-front hotel in the centre of the village with a good restaurant. There is a Spa room upstairs with a pool and treatment rooms, and several very comfortable sitting areas around the hotel for reading and relaxing. The outside bar is great for a drink to watch the sun go down.
Activities
Boats depart for whale-watching tours just in front of the hotel.
Accommodation
There are 12 rooms, 8 of which are facing the ocean and have a private balcony.
Our comments
A charming and comfortable hotel in a great position.
Client comments and reviews
Las Restingas in Puerto Piramides provided the ideal location for our whale watching excursion (the whales came right up to the boat with their calves which was an amazing sight). - AP (November 2007)