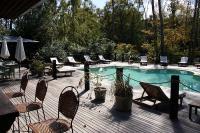 La Pascuala
Location
1 hour from the port (The Tigre Delta, Argentina)
Description
About an hour's boat ride from the port. A comfortable family-owned lodge on a lovely spot for quiet contemplation or to take boat rides on the Delta.
Activities
Pool. Walks and boat rides in the delta.
Accommodation
15 beautifully decorated air conditioned rooms, with baths, in wooden cabins on stilts overlooking the waterways and small lakes of the delta.