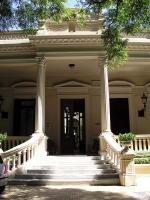 Hotel del Casco
Location
San Isidro (The Tigre Delta, Argentina)
Description
A charming small colonial hotel in the residential district of San Isidro. The tiled, covered courtyard doubles as a living room and breakfast can be taken on the terrace outside.
Activities
There is an outdoor pool, gym and small spa.
Accommodation
Most of the rooms are positioned immediately around the courtyard. They are all stylishly decorated and retain many of their original features.
Our comments
The restaurant only serves breakfast and snacks but there are good restaurants within walking distance.